We believe every customer is unique.
That's why we listen to your concerns and offer different options to fit your budget.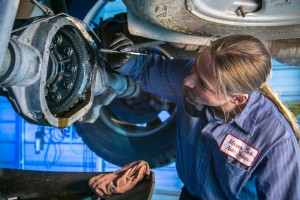 The best my car has ever run since it was new! I really appreciate your fine workmanship!!
Thank you,
Rynha
My 1997 Suzuki Sidekick was plagued with intermittent stalling problems for several months. Two other shops had tried unsuccessfully to diagnose and repair the problem. When I came to Master Tech I was pretty frustrated and desperate for a solution. Ari assured me that he and his technicians would find the problem and fix it. They did! Once again I have a reliable car and complete confidence in the skill and integrity of Ari and the crew at Master Tech. They are the best for all autos—new or old!!
Libby
Dear Master Tech Crew,
I just wanted to drop a quick line to say thank you all for always being so wonderful when I bring in my car. The office crew is always bright and cheerful (and keeps my appointments and info. organized—very important) and John is always friendly and easy to talk to when he gives me rides home (thank you for that added convenience, too!).
Ari, of course, is always very attentive to my car and I actually feel guilty when I don't take care of my car properly, so he's definitely made me feel like my car is valuable. (Even though it's just a Focus.) Thank you for taking care of me and my car.
P.S. Thanks for washing it last time too!
Hilary
Dear Ari,
I didn't get a chance to thank you when I picked up my truck on Friday. You are a really nice person (as well as your wife), your shop has a real good vibration to it, and you keep my truck running like a top. Thanks for everything. Your grateful friend,
Bob
Hey Ari,
Thank you for your generous services and for being a great mechanic. It's not easy to find people you can trust, so I appreciate the work you've done. Thanks again and take care.
Aaron
Dear Ari and Tammy,
We wanted to thank you for the great work that was performed on our 1997 Lincoln Towncar. It is performing like the car we bought five years ago. After trying many shops including several dealerships that did mediocre work and hired mechanics of questionable abilities, it is a pleasure to find a business run by caring knowledgeable people. Thanks to you the engine miss, coolant leak, and general maintenance repairs you completed on our car was some of the best money spent in our three years in New Mexico. We give great kudos to you and your employees.
It is refreshing to find a company managed as professionally as your establishment. As a former mechanic, business owner and one time manager over fifteen mechanics I know that is not an easy profession to choose. You are doing a great job from what we see.
We want you to know that we will recommend you to all Ford product owners we meet that are looking for a great automotive maintenance company.
Again, thank you for the great work on our car.
Sincerely, your pleased and faithful new customers,
John and Ferne